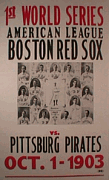 In 1903 the first Teddy Bear is introduced in America, the first baseball World Series is played between the Pittsburgh Pirates and the Boston Red Sox, the first Tour de France bicycle race is held, and for the first time a heavier than air machine, is ungracefully piloted above the sands of Kitty Hawk issuing in the age of flight.

Finally, in 1903, Emily Matthews and Mary Patterson become the first students to graduate from Peters Township High School. Both went on to college, which is exceedingly noteworthy. First, it was a rare and

unusual feat for a woman of that time. Second, it was the introduction of a Peters Township tradition; that of sending the vast majority of it's students onto higher education...

Written by Dr. Mark Buzzatto for "Chamber Focus"